Rabco Energy Solutions is an experienced, Solar Thermal engineering, systems integration and installation company backed by many years of experience. Think of us as the company who knows how to integrate low-cost, highly effective solar energy into your existing buildings or new construction today. We are also a young experienced commercial Geothermal Waste Heat company, dedicated to bringing renewable electricity to commercial market on a 5mw to 10mw scale per project.
Our staff is comprised of engineers, technicians and certified installers who have worked on Solar Thermal and Geothermal systems here in the States, as well as in Europe. We know what we are doing, and we are actively installing commercial sites. Centrally-located in St. Louis, Missouri, our Solar Thermal side offers space heating and cooling, as well as water heating needs for new construction and retrofits nationwide.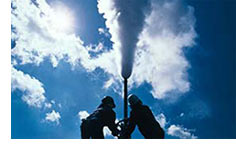 Rabco Energy Solutions is dedicated to long-term growth. We will be a major player in Geothermal and Solar Thermal industries for a long time to come.
The best way, though, to learn more about Rabco Energy Solutions is to start a conversation with us about the needs of your commercial building – new construction or retrofit or community electrical requirements. Let us demonstrate to you just how dramatic your savings can be. We are happy to provide you with our ideas for a system that best suits your needs.